Cheesy Herb Meatballs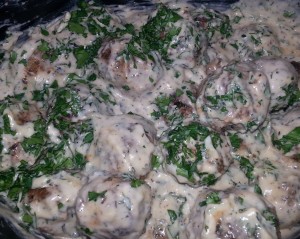 Ingredients
Meatballs
3 lbs of ground beef, pork & veal mix
8 slices bacon
½ bunch flat leaf parsley, chopped
1/3 of a 1oz package fresh sage, chopped
1/3 of a 1oz package fresh thyme, chopped
1/3 of a 1oz package fresh oregano, chopped
3 tsp salt
2 tsp pepper
1 tsp smoked paprika
6-7 cloves garlic, crushed
3 eggs
½ cup whole grain crackers, crushed
½ cup milk
Cheese Sauce
¼ bacon fat
¼ cup flour + more to get a thick roux
1 ½ cups milk
½ cup half & half
2/3 of a 1oz package fresh sage, chopped
2/3 of a 1oz package fresh thyme, chopped
2/3 of a 1oz package fresh oregano, chopped
Approx 1 ½ lbs Cabot cheddar cheese, private stock
topping: ½ bunch flat leaf parsley, chopped
Directions
The meatballs are best if they are put together a day or two ahead of cooking. Watch a movie while you pull all the leaves off the parsley and other herbs.
Combine the milk with the crushed crackers and let them sit for at least 15 minutes.
Cook the bacon, break it up into bits, and save the fat for later.
Mix together the crackers, bacon bits and all the rest of the ingredients for the meatballs. Use a large spoon to measure mixture and shape into evenly-sized meatballs. Cover them and store in the refrigerator until cooking.
Preheat the oven to 425.
Use vegetable oil or bacon fat to brown the meatballs on all sides in batches in the skillet.
Transfer them to the oven and bake for 10-12 minutes.
For cheese sauce, start by toasting a roux made with 1/4 cup butter or bacon fat with 1/4 cup flour. Add flour until the roux until it is thick and browned, stirring constantly. Add all the herbs (except parsley) and stir for 1-2 minutes.
Slowly add milk and half & half, stirring constantly over medium-low heat.
Add the cheese and turn the heat to low. The cheese should melt but not simmer.
Mix cheese sauce with meatballs and top with chopped parsley.

Posted by: danar

This entry was posted on Monday, March 3rd, 2014 at 9:02 pm and is filed under appetizers, sauces.