Chimichurri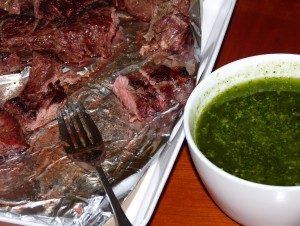 1 1/2 cup parsley (fresh)
1 tbsp. oregano (fresh)
6 garlic clove (quartered)
3/4 cup olive oil
3 tbsp. white wine vinegar
1 tbsp. kosher salt
1 tsp. pepper (ground)
Separate parsley from the stem.
Put parsley, garlic, and oregano in food processor briefly until ground but not mushy.
Mix in remaining ingredients while stirring with spooon.
Posted by: admin
This entry was posted on Thursday, February 14th, 2002 at 7:30 pm and is filed under
sauces
.