Chocolate Chip Banana Berry Cake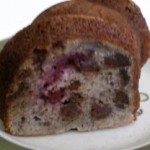 I had a new bundt pan and a lot of frozen, very ripe bananas to use. It led to this is a very moist and dense fruity dessert cake. This is one variation in a long, yummy-looking line of bundt cake recipes on allrecipes.com
Ingredients
1/3 cup shortening
1 1/4 cups sugar, plus extra for dusting the bundt pan
2 eggs
1 teaspoon vanilla extract
3 very ripe bananas
2 cups flour
1 1/4 teaspoons baking powder
1 teaspoon baking soda
1/2 teaspoon salt
1 cup greek yogurt
1 cup of frozen raspberries, thawed
1 cup chocolate chips
Directions
Preheat the oven to 350.
Grease the bundt pan with shortening, then dust it with sugar.
Mix sugar and shortening on high speed.
Mix in eggs, one at a time.
Add vanilla and bananas and mix.
In a separate bowl, combine the flour, baking powder, baking soda, and salt. Stir.
Alternately add some flour mixture and yogurt to the mixture and blend.
Stir in the raspberries and chocolate chips.
Pour batter into the bundt pan and bake at 350 degrees for 55 minutes.
Posted by: danar
This entry was posted on Saturday, April 28th, 2012 at 7:39 pm and is filed under
entrees
,
vegetarian
.