Cream Cheese Frosting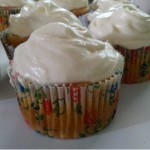 I used this sweet-but-not-too-sweet topping for pumpkin cupcakes but it will work well with other cakes and flavors too.
8 oz of Trader Joe's light whipped cream cheese (1 package), room temperature
1/2 cup of butter (1 stick), room temperature
1 cup of powdered sugar
1 teaspoon of vanilla extract
Mix the cream cheese and butter together with an electric mixer. Add the vanilla & powdered sugar.
Posted by: danar
This entry was posted on Saturday, September 28th, 2013 at 1:22 pm and is filed under
entrees
.