Fast Fudge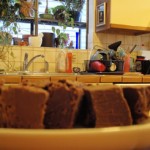 This is an easy newfangled method of making fudge that does not sacrifice deliciousness.  The recipe can easily be doubled if you require a large, decadent yield of 4-5 pounds of fudge.
Ingredients
2 1/4 cups sugar
1 cup half & half
1/4 cup butter
1 12oz package semi-sweet chocolate chips
1/2 package milk chocolate chips
1 tsp vanilla
Directions
Grease a 9×9 pan.
Combine sugar and half & half in a sauce pan and heat on medium.
Stir constantly while bringing the mixture slowly to a boil.
Turn down the heat slightly and continue to simmer for 5 minutes.
Remove the pan from the burner and stir in the chocolate chips, butter, and vanilla.
Stir until the fudge is smooth and pour it into the greased pan.
Let the fudge cool completely at room temperature without covering it. This is best if made a day ahead!
Posted by: danar
This entry was posted on Friday, February 26th, 2010 at 12:44 pm and is filed under
desserts
.
Tags: chocolate