Fried Breakfast Potatoes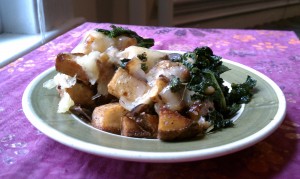 We get a lot of potatoes with our organic produce box and I've been frying them! The time investment and the nutritional sacrifice of fried potatoes is big, so I insist that they come out right! With a lot of advice from my friend, Mart, who has been successfully practicing the art of the fried potato over many years, they came out crispy and perfect this time.
Ingredients
4-5 medium potatoes
canola oil
salt
black pepper
optional spices: red pepper, cumin, or rosemary.
optional veggies: chopped onions, bell peppers, kale
optional cheese: any type that melts
Directions
Cut up the potatoes in small 1/2 inch pieces and shake generous amounts of salt, pepper and other spices over them.
Fill a large frying pan with canola oil. Leave at least an inch of room between the oil and the top of the side so the oil doesn't escape the pan.
Heat the oil on high heat. Test if the oil is hot enough by tossing in one piece of potato – it should bubble and fry vigorously. If the oil gets smoky, then you've waited too long! Be careful and stand back at an arm's length from the pan as you add the rest of the potatoes to the hot oil. Arrange the potato pieces so that they are all mostly covered by the oil.
Monitor the stove temperature so the oil doesn't boil over, but don't touch or stir the potatoes. Let them fry as long as it takes to see them browning. This will take awhile – about 25 – 35 min.
In the meantime, pre-heat the oven to 350 – 375 and chop 2 onions into large pieces. Toss the onion pieces in olive oil on a baking sheet and put them in the oven.
After the potatoes are browned in the skillet, drain the oil and add them to the onions. Bake for 15 min.
Sautee the other optional vegetables while the potatoes finish in the oven.
Combine the potatoes with other vegetables and/or shredded cheese and serve while hot!
Posted by: danar
This entry was posted on Tuesday, June 28th, 2011 at 9:50 pm and is filed under
side dishes
,
vegetarian
.
Tags: breakfast