Lemon Loaf
This is incredibly moist and tasty — a great treat to bring to a party, social engagement, etc., and pretty fool-proof to make.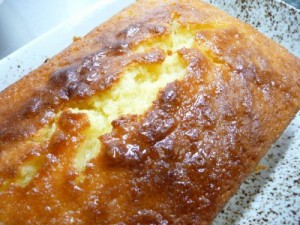 Ingredients for loaf:
1/2 cup butter or margarine or shortening (I prefer butter)
1 cup sugar
2 eggs
1/2 cup milk
1-1/2 cups all-purpose flour
1 teaspoon baking powder
1/2 teaspoon salt
1 lemon, rind of
Ingredients for glaze:
1 lemon, juice of
1/4 cup sugar
Directions
In a large bowl, cream butter and sugar.
Add eggs, one at a time, beating until creamy.
Blend in milk.
In another bowl, mix together flour, baking powder, salt and lemon rind.
Pour into batter.
Stir to moisten.
Scrape into greased 9 x 5 inch loaf pan.
Bake in 350 degree oven for 55 to 60 minutes.
Cool in pan for 5 minutes.
Remove to rack and while still hot, with a toothpick poke holes all over the top of the loaf, and spoon glaze evenly over. (note: glaze will be watery and this is o.k.)
Cool.
Glaze:  Combine lemon juice and sugar in saucepan.
Stir and heat till sugar is dissolved.
Spoon evenly over top of hot loaf.
Posted by: melissafd
This entry was posted on Thursday, May 20th, 2010 at 5:47 am and is filed under
desserts
.
Tags: lemon loaf dessert