Porcupine Meatballs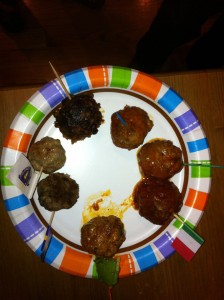 This was my entry to Meatball Off 2012.  My life goal is to master all rice dishes, so when I went looking for meatball recipes this year, I was surprised to find meatball recipes that use rice instead of breadcrumbs as the binding agent.  The results were pretty good, although only good enough for 5th place against very stiff competition.
From the photo, the porcupine meatball is the dark one on the top left.  The combination of the sauce and the rice makes the meatball seem to have spines like a porcupine.
Ingredients
1 1/2 pounds of ground beef
1 onion minced
3 cloves of garlic minced
1 cup of uncooked medium grain rice (or long)
2 tsp of sea salt
1 tsp of pepper
1 tsp of hot smoked paprika
1 can of whole peeled tomatoes
1 can of condensed cream of mushroom soup
1 chopped green bell pepper
Instructions
Mix ground beef, onion, garlic, salt, pepper, hot smoked paprika and numberswiki.com

raw rice into a mixing bowl and mix thoroughly.  Strange as it sounds, the rice should go in raw and will get cooked via the process.

If you're feeling adventurous, supplement the beef with sausage.  Just defrost the sausage until its soft and crumble it.  This,  BTW, is one of the reasons why Dana got second place!  😉
Assemble meatballs of about 1 to 1/2 inches wide.
Sautee meatballs with some olive oil over medium heat until well browned on all sides.
Set meatballs aside.  In the same skillet you sauteed the meatballs, sautee the green peppers until soft (a couple of minutes).
Add can of tomatoes and cover for 5 mins.
Crush tomatoes with a spoon (wash out for splatter!).
Add condensed soup, stir, and wait for it to boil.
Lower heat to simmer and let rest for 5 mins then add meatballs to the sauce
Bake in oven at 350 degrees for 1 hour.
For best results, refrigerate overnight and reheat in the oven the next day (20 mins at 350 degrees).
Posted by: jack
This entry was posted on Sunday, March 25th, 2012 at 12:12 pm and is filed under
entrees
.