Salmon & Herb Cream Cheese on Crackers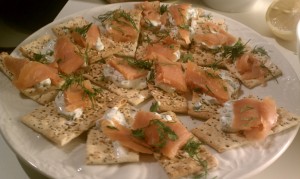 This appetizer was snarfed down in moments on Christmas this year. It didn't last long enough for all the dinner guests to arrive!
Ingredients
1/2 cup light whipped cream cheese
juice of half a lemon
2 tablespoons chopped parsley & dill
1/4 cup capers
pinch of kosher salt
4 oz package wild salmon
seeded crackers ("everything" flat bread crackers are a good choice)
Directions
Mix the first 5 ingredients (cream cheese through salt) together.
Cut the salmon into small pieces.
Spoon cream cheese mixture onto the crackers and salmon pieces onto the cream cheese mixture.
Sprinkle a little extra dill over the salmon and enjoy.
Posted by: danar
This entry was posted on Wednesday, December 28th, 2011 at 5:49 pm and is filed under
appetizers
.
Tags: cream cheese, lemon, salmon