Sasha's Chocolate Chip Banana Bread
I'm scared that I'll lose the tiny piece of water-damaged paper, upon which I've scrawled Sasha's yummy banana bread recipe. So here it is, securely stored and shared.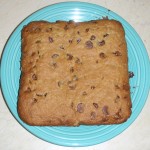 1 small bag chocolate chips
2 very ripe bananas, mashed
2 large eggs, lightly beaten
5 tbsp butter
2/3 cups sugar
1 1/3 cups flour
3/4 tsp salt
1/2 tsp baking soda
1/4 tsp baking powder
Whisk together the flour, salt, baking soda, and baking powder.
Beat the butter and sugar on high speed for a few minutes until lightened.
Beat in the flour mixture until blended.
Slowly beat in 2 large eggs.
Mix in bananas and choc chips.
Spread batter into pan and bake at 350 for 50-60 minutes.
Lately I've been using a 9×9 glass baking dish, instead of a bread pan and it comes out great.
Posted by: danar
This entry was posted on Friday, October 21st, 2005 at 6:30 pm and is filed under
desserts
.